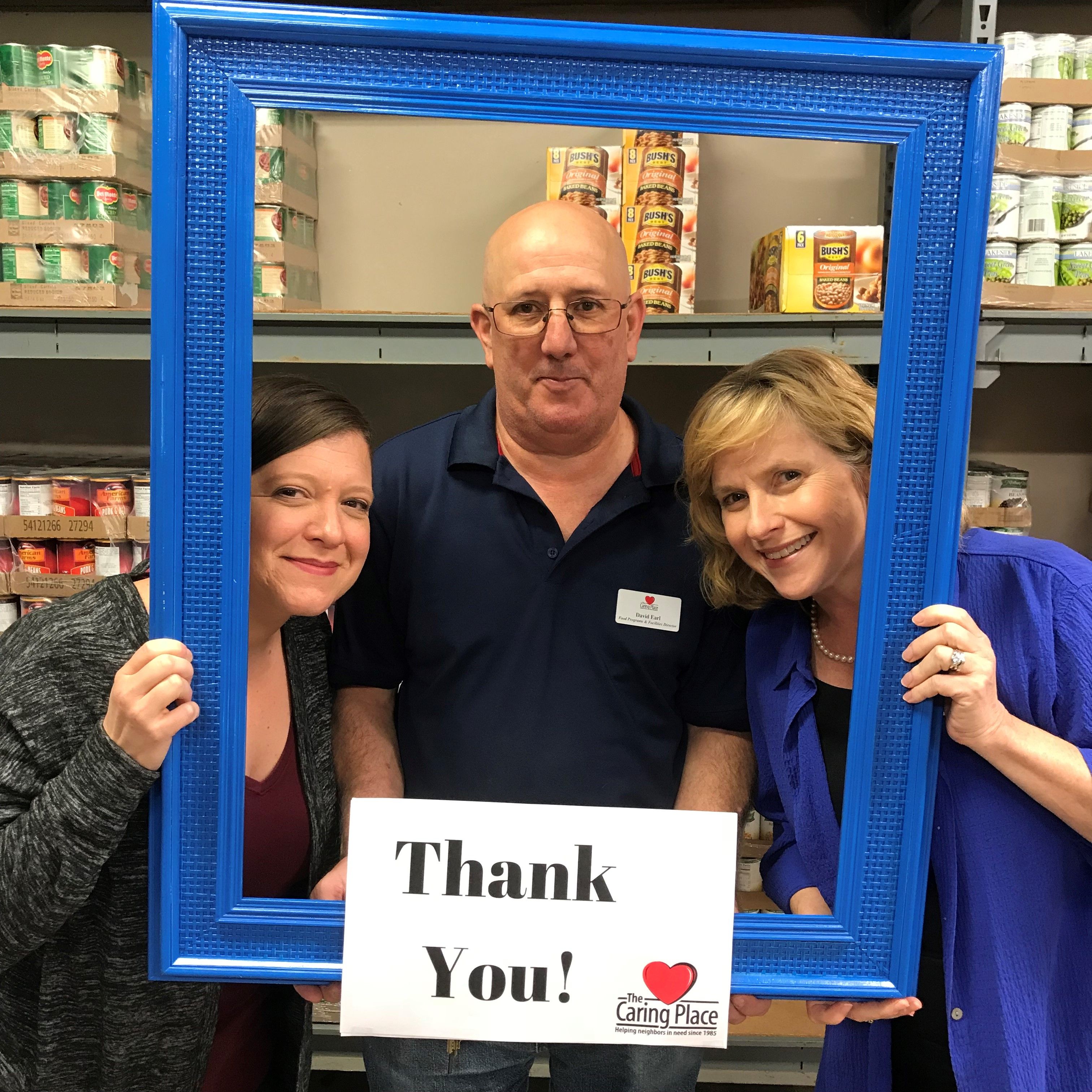 The Caring Place is excited to announce the overwhelming response to our annual "Hunger-Free Holidays" Food Drive.  The organization collected 317,998 pounds of food during this campaign.
The Caring Place provides a 10-day supply of food to families in financial crisis through its Food Pantry.  This amounts to 35 pounds of food per person at a value of $59.50 per person.  The Hunger Free Holidays Food Drive was October 1st through December 31st of 2018.  The organization depends on this Food Drive each year to refill the Pantry. 
"The summer of 2018 was particularly challenging for the Food Pantry," says Food Programs and Facilities Director, David Earl.  "We had empty shelves and were struggling to give neighbors in need healthy foods their families would eat.  The community response this holiday season was heart-warming to say the least."  Earl goes on to say, "This food will help us get through the first quarter of the year.  We should note, food leaves the Pantry and goes into homes much faster than people realize, so we keep a Food Pantry Needs list on our website at all times for those that can keep giving all year long."
Executive Director, Ginna O'Connor says, "We'd like to thank the individuals, clubs, organizations, businesses and faith-based groups that pitched in to make this year's Hunger-Free Holidays Food Drive a success.  The culture of caring in the Georgetown area is truly amazing and we are so fortunate for a community that fills needs by sharing what they have.  Through item donations, food donations, monetary donations, and volunteerism, we see over and over that this community cares about its neighbors." 
The Caring Place Food Pantry is one of four food programs offered by the nonprofit, which also includes Our Daily Bread, Healthy Options Program for the Elderly (HOPE) and Fresh Food for Families. For further information on Programs and Services of the organization, you can visit www.caringplacetx.org.
ABOUT THE CARING PLACE
Since 1985, The Caring Place has provided basic human services for families in financial crisis in Georgetown and northern Williamson County.  Through two thrift shops, The Shops at The Caring Place and Second Helping, both in Georgetown, the organization is able to pay for the operating expenses to serve a growing community in need.  All monetary and food donations benefit neighbors needing food, utility, rent, transportation or medical assistance.  The Caring Place is a community-based, community-supported organization, working to improve the quality of life for every client.  For more information on The Caring Place visit www.caringplacetx.org. 
###