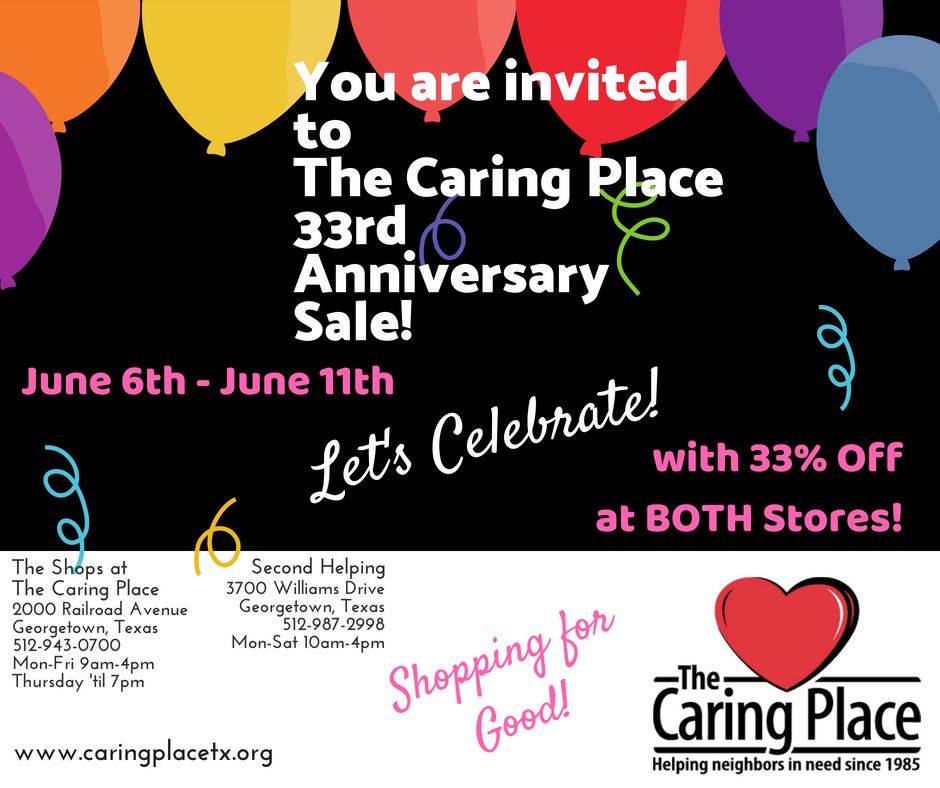 Georgetown, TX, June 1, 2018 June marks the 33rd Anniversary of the local non-profit, The Caring Place. The organization's mission is to provide basic human services to families in financial crisis in Georgetown and northern Williamson County. The community-based, community-supported organization is funded partially by two thrift stores, The Shops at The Caring Place and Second Helping. June 6-11 the stores will have a 33% Off Sale to thank the community for being part of the mission every day.
Store Director Ann Lind says, "The people in our community are the ones who make our stores so special. They regularly donate wonderful, high-quality items. Some people are simply cleaning out a closet, but we want to remind them that they are also changing lives. Items donated are directly impacting someone who needs help to pay an electric bill, or someone who needs to supplement food by using our Food Pantry."
Executive Director Ginna O'Connor shares, "This organization began in 1985 because two women saw a need for a central place where people could get help with basic human needs. Marty Maxwell and Yolanda Branson approached the Georgetown Ministerial Alliance, and the rest is history." O'Connor adds, "Having a sale is a small way we can thank our supporters and remind them how they are helping the community. It may seem silly to say you can help neighbors in need simply by donating your gently used items or shopping at a thrift store, but at The Caring Place it's true. Revenue from our thrift stores completely covers our operating costs every year and we couldn't do the work we do without shoppers and donations."
The 33rd Anniversary Sale is June 6-11th at both thrift stores and will include a 33% discount on every purchase and a drawing for customers to win gift cards. The Shops at The Caring Place at 2000 Railroad Ave. is open Monday through Saturday 9:00 a.m. – 4:00 p.m. And, until 7:00 p.m. on Thursdays. Second Helping at 3700 Williams Dr. is open 10:00 a.m. – 4:00 p.m. Monday through Saturday. If you'd like to donate new or gently used items to The Caring Place you can do so in the Donations Drive Through at 2000 Railroad Avenue, Monday through Saturday, 9:00 a.m. – 4:00 p.m. For additional questions call The Caring Place at 512-943-0700 or email info@caringplacetx.org.
ABOUT THE CARING PLACE: Since 1985, The Caring Place has provided basic human services for families in financial crisis in Georgetown and northern Williamson County. Through two thrift shops, The Shops at The Caring Place and Second Helping, both in Georgetown, the organization is able to pay for the operating expenses to serve a growing community in need. All monetary and food donations benefit neighbors needing food, utility, rent, transportation or medical assistance. The Caring Place is a community-based, community-supported organization, working to improve the quality of life for every client. For more information on The Caring Place visit www.caringplacetx.org. ###