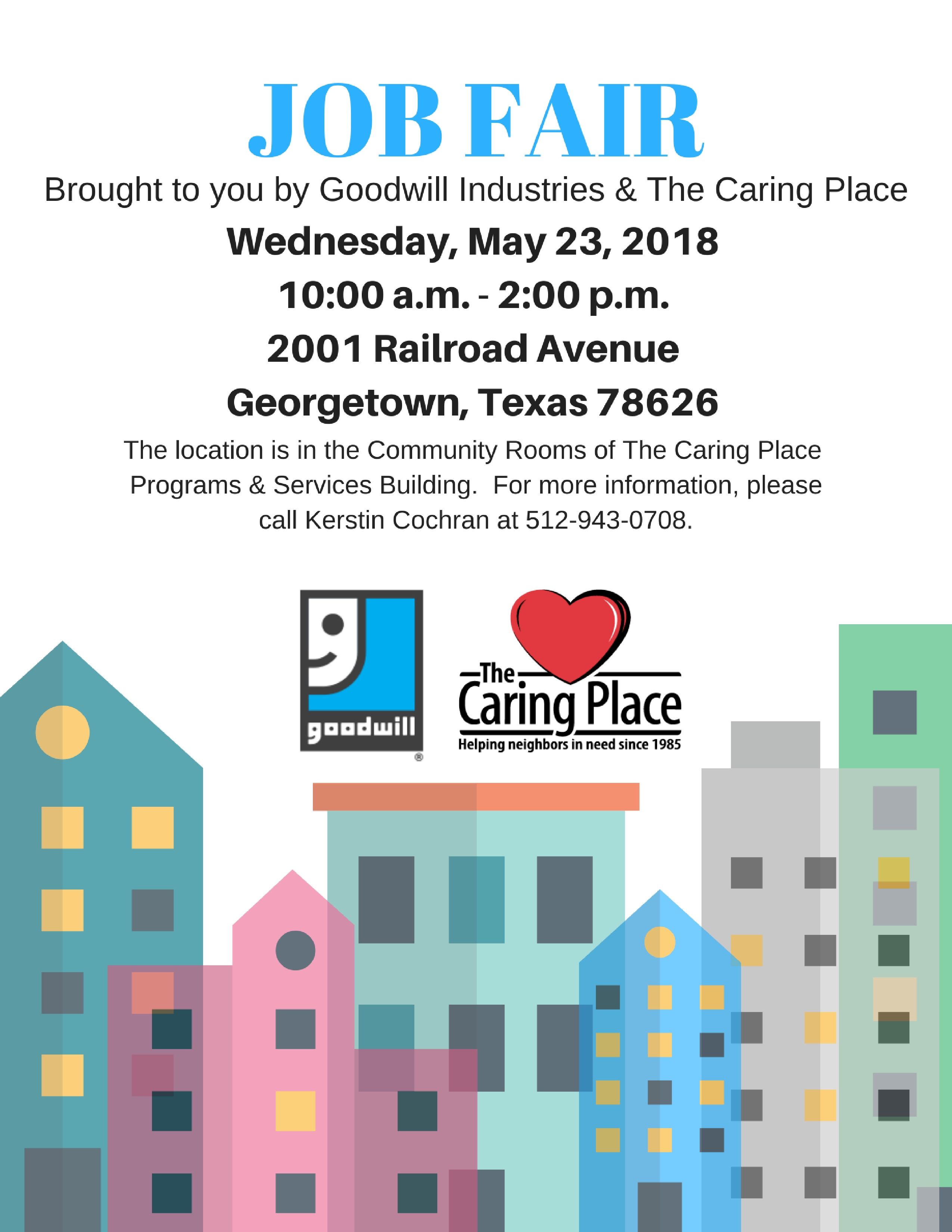 Georgetown, TX, May 2, 2018 The Caring Place in Georgetown, Texas and Goodwill Industries, invite the community to the 2nd Annual TCP-Goodwill Job Fair at The Caring Place Community Rooms at 2001 Railroad Ave., on Wednesday, May 23, 2017, 10:00 a.m. – 2:00 p.m.
Free to the public, attendees will have the opportunity to speak directly with representatives from a dozen companies regarding employment.
Recognizing the opportunity to help the community beyond their basic human needs, The Caring Place partnered with Goodwill in 2017 to offer a place where companies could meet with people in the job market. Due to the positive feedback, the two non-profits have elected to team up once again to help share opportunities with community job seekers.
Industries represented at the job fair will include healthcare, package shipping, facilities services, job placement, food services, day jobs, warehouse workers, retail sales and more.
"This is a great opportunity for employers and job seekers to come together," said Kerstin Cochran, Client Services Resource Coordinator. "We were pleased by the success of the event last year and are excited to partner with Goodwill on this project again."
For further information about the job fair, please contact Kerstin Cochran, Programs & Services Volunteer Coordinator at The Caring Place, 512-943-0708 or kcochran@caringplacetx.org.
ABOUT THE CARING PLACE
Since 1985, The Caring Place has provided basic human services for families in financial crisis in Georgetown and northern Williamson County. Through two thrift shops, The Shops at The Caring Place and Second Helping, both in Georgetown, the organization is able to pay for the operating expenses to serve a growing community in need. All monetary and food donations benefit neighbors needing food, utility, rent, transportation or medical assistance. The Caring Place is a community-based, community-supported organization, working to improve the quality of life for every client. For more information on The Caring Place visit www.caringplacetx.org.
###