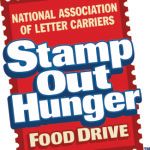 The Letter Carriers Stamp Out Hunger Food Drive is on Saturday, May 14, 2016. Non-perishable food donations from the community benefit The Caring Place Food Pantry.
The Postal Service will place bags in mailboxes in most communities, however, any type of bag is accepted. Residents can participate by placing their non-perishable food donations next to their mailboxes well before the normal mail pick-up time on May 14th. Volunteers from The Caring Place pick up the donations from the post office.
Last year, The Caring Place received nearly 15,000 pounds of food from the Drive. "We look forward every year to the Letter Carriers Food Drive and are so grateful for the donations that help stock our Food Pantry for families in financial crisis," said David Earl, Facilities and Donations Director for The Caring Place.
"In 2015, we distributed 601,685 pounds of food to 17,191 individuals through our Food Pantry," said Ginna O'Connor, Executive Director for The Caring Place. "We really appreciate the food our community donates during The Letter Carriers Stamp Out Hunger Food Drive."
The Caring Place is a 501(c)(3) nonprofit organization, serving its clients and communities by responding to the basic human needs of people in Georgetown and rural Williamson County.