12 Days of Christmas Sales at Second Helping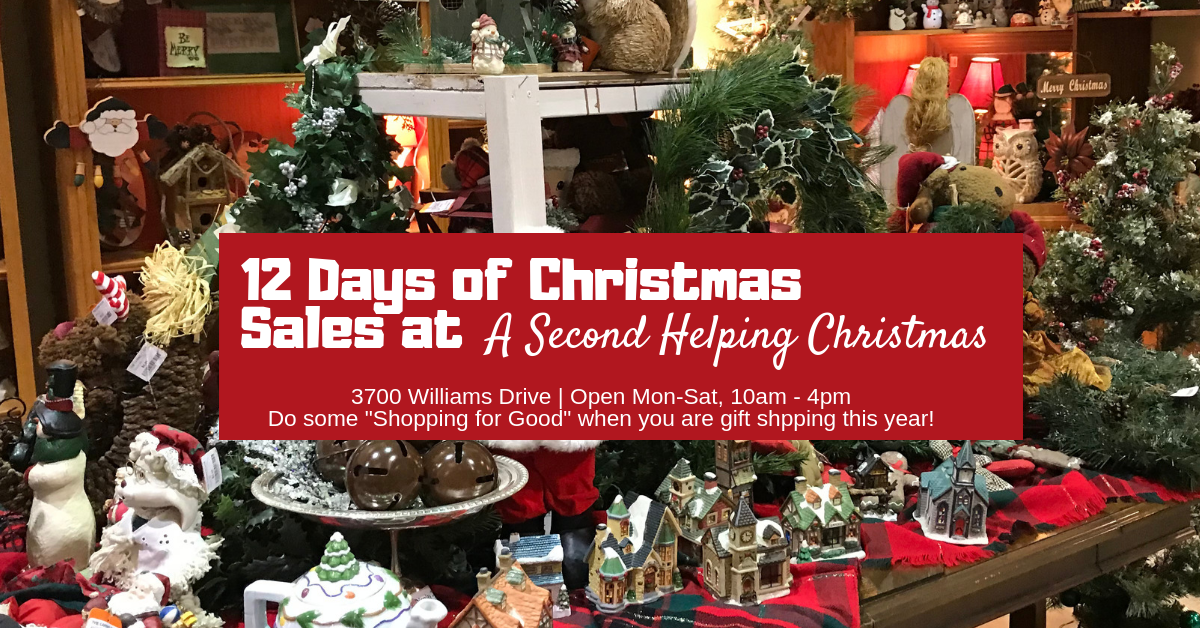 Friday, November 16th the store will debut all of its holiday finds at "A Second Helping Christmas" event from 10:00 a.m. to 4:00 p.m. Be prepared for holiday spirit, holiday décor and the unique gift items you have grown accustomed to at this store. This year there is more to the season than this one day! Join Second Helping on 12 additional days for sales to help you select the perfect items for friends and family. Each sale day the store will serve complimentary refreshments as you shop for holiday treasures.
Second Helping is also offering gift-wrapping this year for a minimum donation of $2 to The Caring Place. While supplies last, volunteers will wrap your gift in gift bags and include a special Gift Tag from The Caring Place. The tag will share with the recipient that the gift was purchased at an organization that supports neighbors in need. "We love reminding our customers that when they shop here they are helping the community. It adds just a little heart to your gift purchase when you can share that information with recipients," says Store Manager. Tracy Tripulas.
Here are the list of Sale Dates along with the holiday reveal on November 16th:
November 9, 10, 12 -50% off entire store (excludes furniture and fine jewelry)
November 19 -50% off kitchenware
November 26 -BOGO on costume jewelry
November 29 -BOGO on games and puzzles
December 3 -50% off chairs
December 6 -BOGO wall art & lamps
December 10 -BOGO on books
December 13 -50% off floral items (excludes holiday)
December 17 -50% off lamps
December 20 -50% off wall art
The Caring Place suggests you follow them on Facebook in order to learn about all the holiday fun at both thrift stores this year. Second Helping is open Monday-Saturday, 10:00 a.m.-4:00 p.m. at 3700 Williams Drive.
ABOUT THE CARING PLACE
Since 1985, The Caring Place has provided basic human services for families in financial crisis in
Georgetown and northern Williamson County. Through two thrift shops, The Shops at The Caring Place and Second Helping, both in Georgetown, the organization is able to pay for the operating expenses to serve a growing community in need. All monetary and food donations benefit neighbors needing food, utility, rent, transportation or medical assistance. The Caring Place is a communitybased, community-supported organization, working to improve the quality of life for every client. For more information on The Caring Place visit www.caringplacetx.org. ###