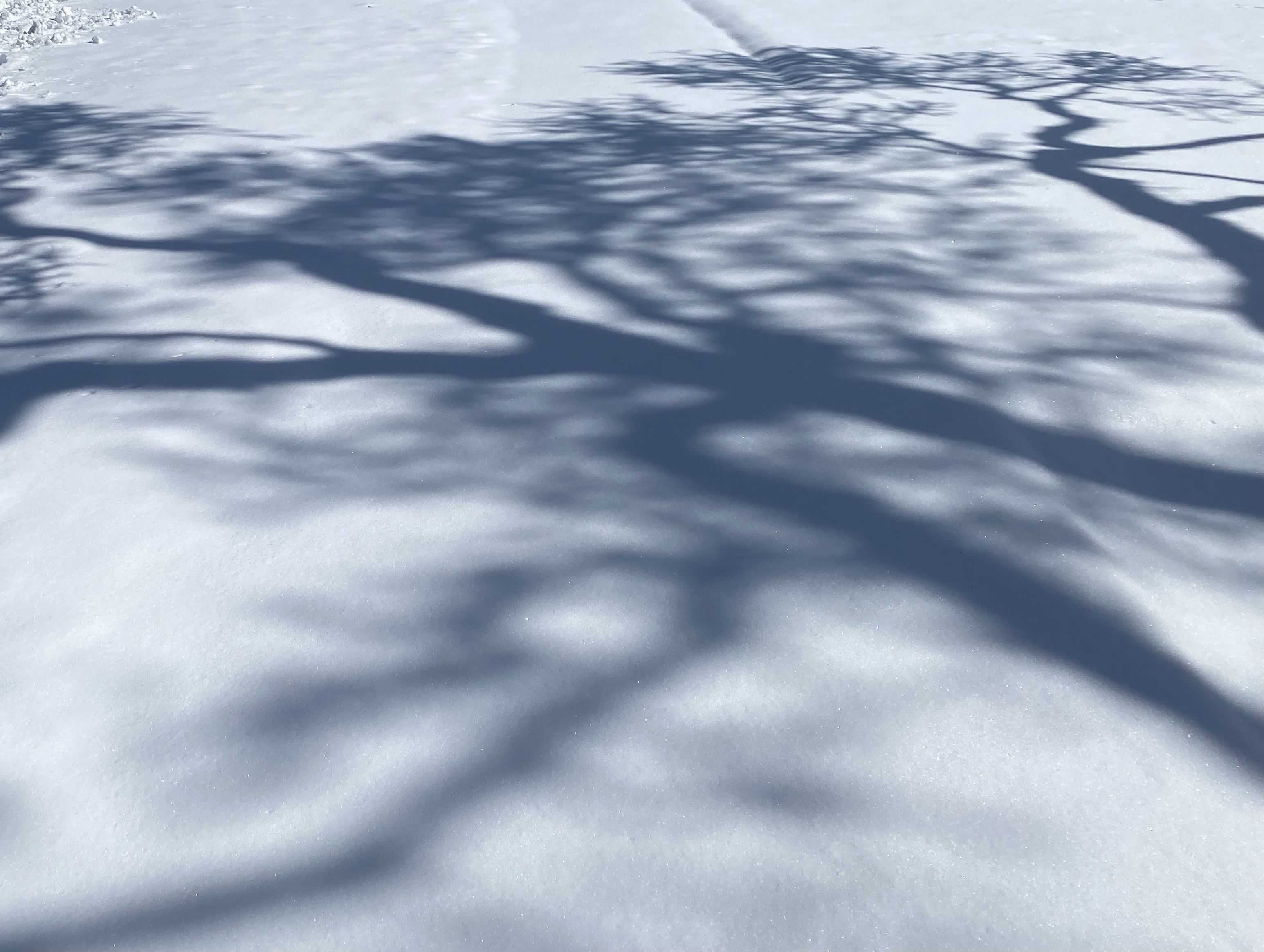 I walk a lot.  Mostly I walk for exercise, but I use the quiet to think and clear my mind.
During the Valentine's weekend full of unending snow and ice, I kept walking. I donned a few layers of my warmest duds, hat, scarf and my waterproof shoes and ventured through 3-6 inches of powdery or icy snow in below freezing temperatures every day.  My legs felt heavier than ever as they pushed through the snow.  I lifted them higher to keep walking.  Sometimes I balanced through pockets of ice or slush, but kept right on going.  I maneuvered around my dog who stopped to eat the fluffy snow delight.  And as usual, I spent time thinking.  I thought about how I felt really fortunate that sometimes I had electricity.  I was thankful that sometimes I had the internet, and sometimes if I walked up a hill about ¼ of a mile I could text someone and it would go through.  I thought about the fact that we are a camping family and had extra sleeping bags and could rummage around and find warm clothes for everyone in my home.  I felt really lucky, as foreign as it all was for this native Texan.  As I continued walking, I realized I couldn't see the sidewalk.  I was weaving over the area where I thought it might be.  There was no beginning or end in sight.  By day 8 of this wintry mess, that was how I was feeling about our Texas winter weather.  Will it have an end?
One of the things we were also thinking about at my house, in between rounds of Spades, Hearts and gathering wood, was figuring out ways to winterize every aspect of our home.  It was hard.  As I am writing this, we are still operating in freezing temperatures so I don't know if we were completely successful.  Being a frugal family, we also found ourselves asking: Are we going to have plumbing repairs later? What will it cost? Will we need to replace an appliance?  Will my electricity bill go up?
I know I was dealing with some of the same issues and questions as many of my neighbors.  All over Central Texas families were struggling to keep pipes from freezing, communicate with work and family, and at the most basic level many families were trying to stay warm and keep themselves fed.  Some of the costs of this extreme weather event won't be realized for months as our bills come in and we get estimates for repairs.  But who will be most impacted by this  weather event?  It will be the neighbors The Caring Place is already serving.  The neighbors that rely on The Caring Place to supplement their pantries and the neighbors who already find it difficult to cover energy bills will find themselves in a new crisis.  Funds that are meant to help those who lost jobs from COVID-19 won't help those who lost hours at work due to closures and unsafe road conditions caused by the weather.  This extreme weather might be the one crisis that brings somewhat financially stable neighbors to The Caring Place for assistance by crippling their expected income and increasing their bills.  The Caring Place will be relying on our supportive community to help any neighbors that come our way.  This past week I saw lots of Facebook posts of neighbors sharing food, milk, gasoline, tools, firewood, rides and more, so I know this is a community that will continue to come through for those in need.
Just like a Shel Silverstein poem, this crisis will end.  I will one day see where my sidewalk ends again, too.  But who will now be facing the beginning of a new crisis because of this past week?  As the Amplify fundraising campaign approaches its end on March 5th, I hope you will consider a gift to support The Caring Place.  It's already proving to be a double crisis year for many families.  Your help makes a difference to neighbors in Georgetown and our surrounding communities because it allows The Caring Place to provide a safety net for our community with food, rent, mortgage and utility assistance, and more.  Having temporarily gone without electricity and water over the last week has made me realize how important and basic those things truly are. 
Join our matching Amplify campaign at caringplacetx.org/amplify by March 5th at 6 p.m.