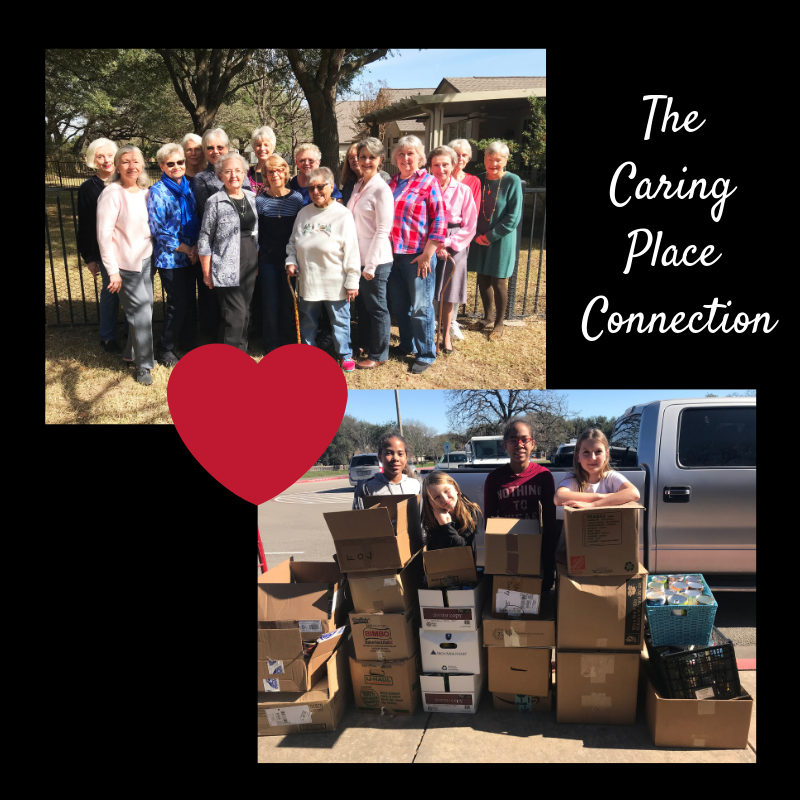 In the month of February, I had the good fortune to meet with two different groups.  They had a lot in common despite first appearances.  I'd love to tell you about them.
Group one I found at Pickett Elementary.  As part of a Destination Imagination team, five motivated 3rd, 4th and 5th graders planned a school-wide Food Drive.  The group, named Power Kids were tasked with partnering with someone in the community.  They chose The Caring Place Food Pantry.  During this service-learning project, Power Kids made posters, had contests among classes, and gathered can goods for the Food Pantry.  With merely the promise of a PJ party and extra recess, these students collected 932 pounds of food for the Food Pantry.  As someone watching from the outside, I saw kids that were clearly self-driven.  They did some planning to figure out how to promote this project throughout the school, and then they made it happen.  These students showed us a wonderful example of how to motivate others to do good.  Five kids with a goal to make a difference, made that difference right here at The Caring Place. When students are already blazing a path to help others and show such ambition along with their kindness, it makes you wonder what they will do when they grow up.
This brings us to group two.  Group two invited me to their neighborhood's coffee group.  It's not just any neighborhood though.  It's the 100 block of Scissortail in Sun City.  Sun City is a popular community in Georgetown, known for being the home of a large retirement population, or folks 55 and older.  This particular block regularly meets for coffee and they always bring food items for The Caring Place.  I should point out that they don't meet in the summer, so their amazing collecting is done during only 9 months of the year.  In 2018 alone, the group donated over 500 pounds of food, but they have been giving food at their monthly meetings for years.  Since 2012 to be exact.  The Caring Place estimates that the philanthropic group has given over 2,600 pounds of food simply by consistently giving each month.  Each December, the group also pitches in funds to go towards a charity they agree upon.  The last two years the neighborhood group has donated an additional $2,000 to the Caring Place.  Over half of the block donated this year.  This is quite an accomplishment and The Caring Place is incredibly honored by the neighborhood's continued commitment to The Caring Place.
At first glance, I see two very different groups. One group is children at a school and the other group is mostly retired adults in a neighborhood.  But, these groups have one thing in common.  They both realize the difference they can make as a group.  They saw a need and filled it.  They worked together as a team, and they led with their hearts.  I can't help but think that the team at Pickett Elementary will one day be retired like the group in Sun City, but still be leading the charge in philanthropic activities to help places like The Caring place. 
The Caring Place is fortunate that schools, churches, civic groups, neighborhoods, businesses and more choose to support it.  And, I can't think of a better way to cultivate a culture of caring in our community than sharing time with friends as you work together to lift others up.