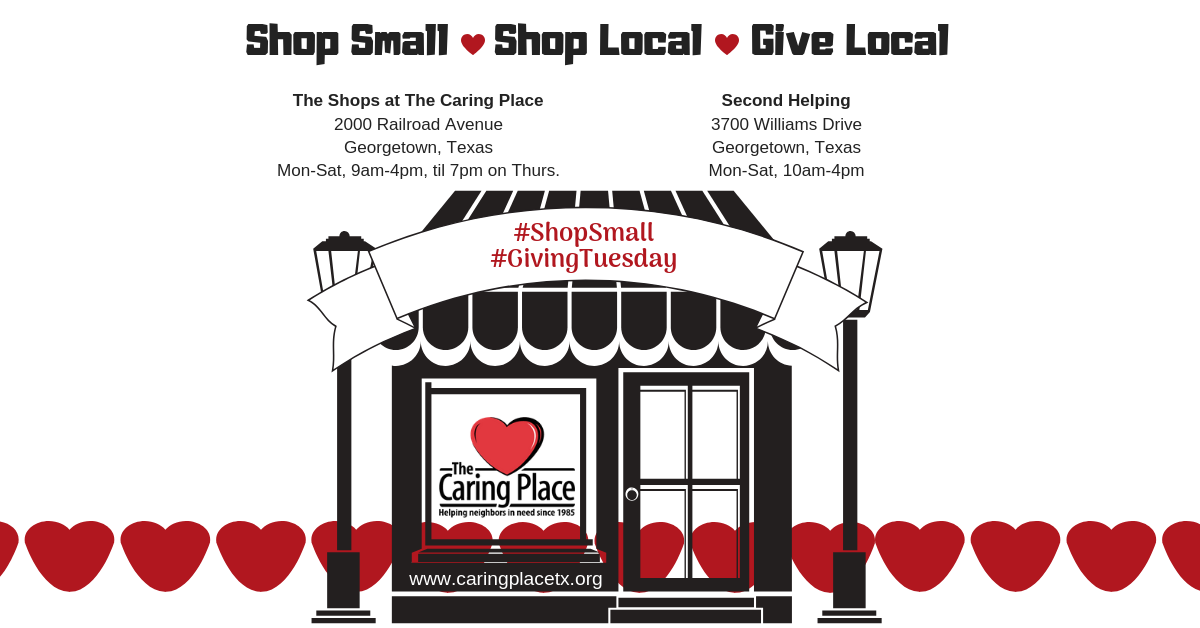 During November, two big hashtags that will make the rounds in your social media feed are #ShopSmall & #GivingTuesday. We want to take this opportunity to introduce you to them both!
So here's your tutorial and how it applies to us!
#ShopSmall Small Business Saturday is an American shopping holiday held on the Saturday after U.S. Thanksgiving during one of the busiest shopping periods of the year. As you know we are a small business in Georgetown! However, being a non-profit we are a little different because every dollar spent in our stores supports a non-profit mission to help neighbors in financial crisis. So, your shopping with us does more than support a small business, you are supporting real people in Georgetown and north Williamson County. We call it #shoppingforgood!
You can find our shop addresses here:
http://www.caringplacetx.org/how-to-help/shop-thrift-store.html
#GivingTuesday Giving Tuesday refers to the Tuesday after Thanksgiving in the United States. It is a movement to create an international day of giving at the beginning of the Christmas and holiday season. At The Caring Place we utilize this hashtag due to our non-profit status. And, because we operate 2 thrift shops to cover our overhead costs (& more), this means 100% of your monetary donations will directly impact neighbors in need! This is a special thing, and we hope this year as you look for places to give on Giving Tuesday you consider a local non-profit like The Caring Place impacting a growing community in need.
You can make donations at: http://www.caringplacetx.org/donate
Thank you for thinking of us this holiday season and all year long. Your support means a lot to us and the people we serve.