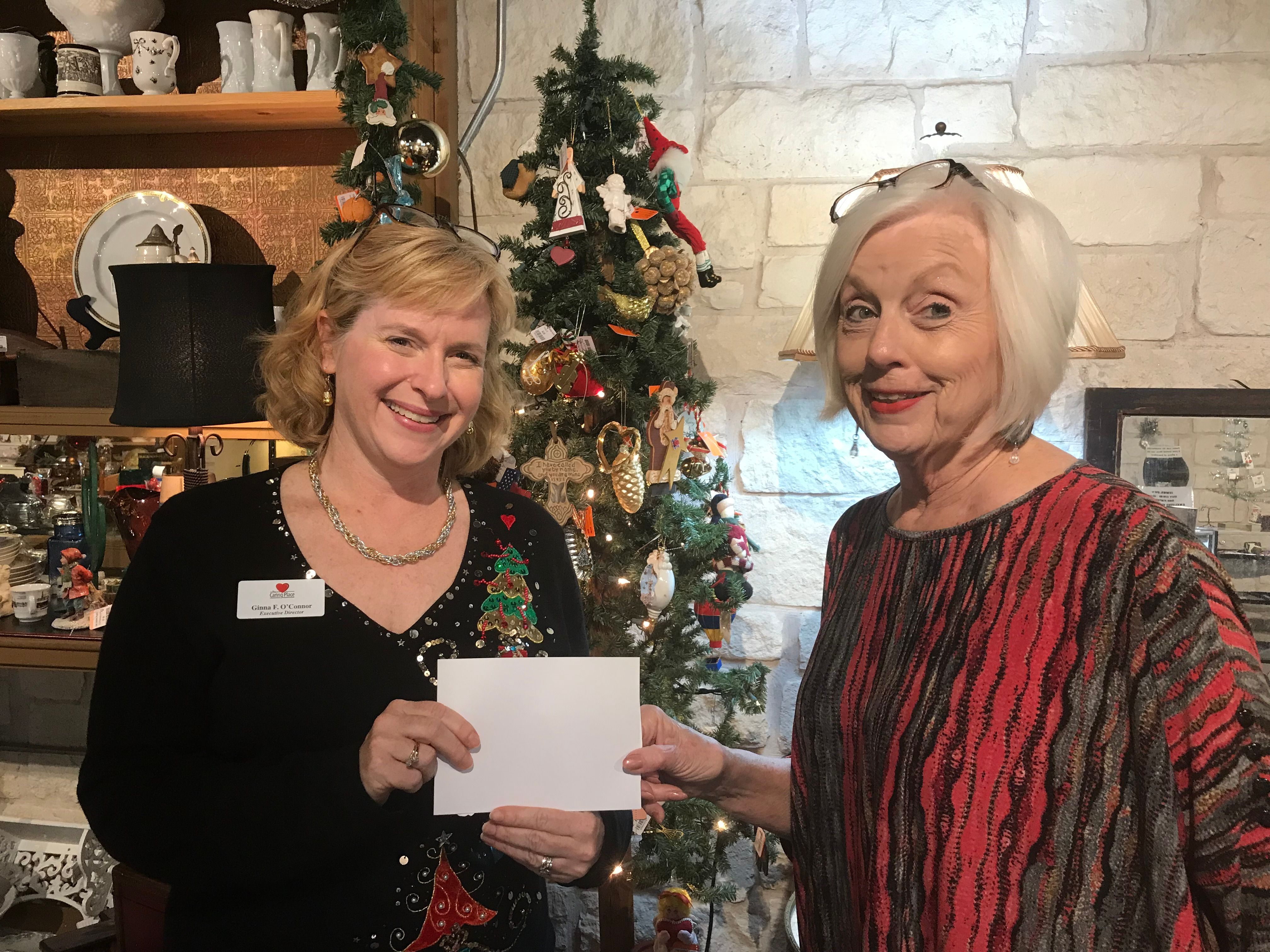 Do you think about how you can make an impact in your everyday life? The Caring Place seems to be an amazing mecca for people who give of their time and resources. Every one of our volunteers make a choice to give of their time here. Many of them also give financially to The Caring Place and bring items to donate.
So, it's probably no surprise that our volunteers often have the best ideas on how to give even more by incorporating giving into their everyday lives and encouraging others to do so.
In December, The Caring Place received a check for $2000.00 from a generous neighborhood in Sun City. The 100 block of Scissortail took up a collection for the Coats for Kids program. I was thrilled to hear 64% of the street participated. They clearly communicate well among their neighbors and encourage a culture of giving in their community. It was one of our regular volunteers who made sure people had a convenient way to collect the donations.
A financial donation alone around the holidays is generous, but then I learned about something else they do in that same neighborhood and had a "eureka" moment. I thought, wow, if everyone thought like this, we would easily meet financial goals and the Food Pantry would stay full all year!
What were they doing? This neighborhood had a monthly social gathering for coffee. That's pretty common, right? Getting together with friends and neighbors, catching up, and socializing? Except for one thing; at every meeting the neighbors also brought a canned good or two. They brought whatever they could spare from the pantry that month and they often checked the Food Pantry list on our website to see what was in need. It doesn't seem like a lot, but do you know what that translated to after 4 years of collecting? 2,500 meals for families in need! And once again, one of our volunteers made it convenient for her neighbors to give by carrying cans in her car until the next time she came in to The Caring Place and over this time we tracked the contributions from her neighborhood.
This is a perfect example of how you can make an intentional impact and it doesn't have to put a huge burden on your time and finances. It's a well thought out idea, knowing that over time this habit of bringing a canned good to a meeting would make a difference to someone.
Maybe in the New Year you wish you could give more or volunteer more, but just don't know how. Change how you think and ponder about how you can intentionally make an impact that adds up over time. Maybe that means teaming up with friends, family or neighbors. It might mean you make small monthly contributions to your favorite place to give. And it might mean you begin a journey of volunteering, but you start small. Contributions make a difference no matter how insignificant they seem.
Thank you to Nancy Kimbell and her wonderful neighborhood for reminding us how easy it can be to give! And, how those small acts of giving can turn into something big! We are grateful for you!