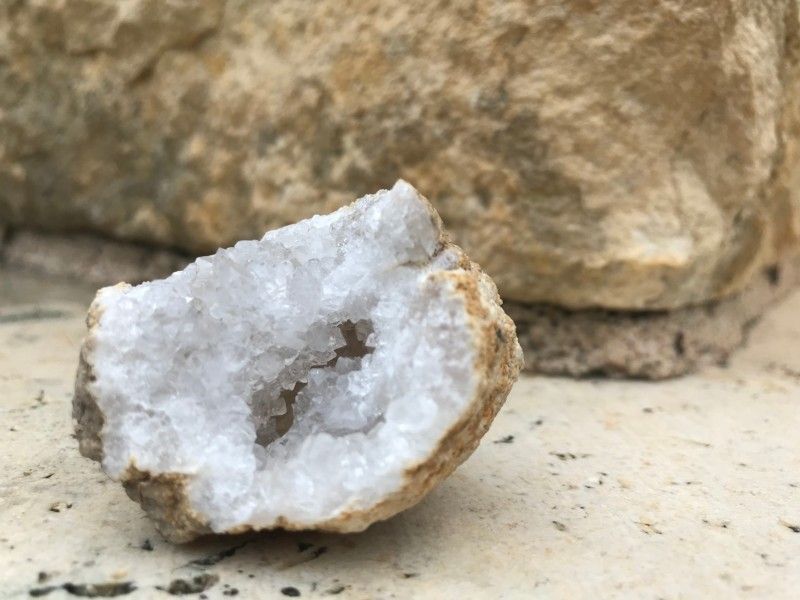 Geodes are unique rocks, often lighter in weight than you expect. You might find them in some pretty lonely places out in nature. They are rough and hard on the outside and seem hollow inside, but if you split it open you'll find beautiful, sparkling crystals inside.
Recently one of these rocks showed up on our Executive Director's desk. Upon first glance it's a rock. Granted, it is a beautiful rock, displaying some gorgeous crystals inside, but how did it show up on a desk at The Caring Place?
The card next to it said it all. A family needed some help. The Caring Place provided help in the form of food from the Food Pantry. A single parent wrote us a sweet note thanking The Caring Place for our support when life got harder for a while. She went on to say that because of the food she receives she's paying things off, getting closer to a home for her family and her baby girl with asthma can breathe easier. Mom can pay for necessary things like medicine when she has help with food costs.
Where does the geode come in? The elementary school age daughter presented it to a Food Pantry volunteer with the card as a gift for the food we provided. This was her favorite geode. So many people we come across, including ourselves, are like that little geode. Rough and hard around the edges, but open us up and we can be very beautiful. We just need a chance to shine.
Hearing about this small gift to The Caring Place, I got a little teary pondering this geode and the people it represents. I thought of the people that walk through our doors every day, needing that little bit of extra help. They may need gas money so they can drive to work, or a little bit of extra money to pay rent this month because they had an unexpected visit to the doctor, or maybe the cost of utilities went up and their hours at work were reduced. We hear so many stories at The Caring Place of people just needing someone to care, just a little, so they can breathe easier. The Caring Place is honored to be part of these stories. We have the opportunity every day to see people shine.
I wanted to share this story during this season because recently The Caring Place has brought a few holiday programs to a close for 2017. We completed the process of giving gift cards out for Coats for Kids and Holiday Meal Assistance. December 31st will bring our Hunger Free Holidays campaign to an end as well. If you donated to any of these programs, you are part of this geode story too. You are giving our neighbors, friends and family the opportunity to sparkle like this little geode. We hope that in this season of giving you found a little twinkle in your own heart through your actions this year. And, maybe you were like me and a little twinkle came to your eyes thinking of the impact we all can make at The Caring Place.
From our family to yours, The Caring Place wishes you a very Happy Holiday and a Happy New Year. We hope you'll join us in 2018, as we continue our mission of bringing care to our community.