2017 Annual Volunteer Service Awards (for service in 2016)
Caring Heart Award
The Caring Heart Award recognizes demonstrated excellence that exceeded a client's, customer's or peer's expectations. The following volunteers received the Caring Heart Award.
Peter Evans

Peter prices donations for the Outdoor Store. He takes pride in his job and even takes things home to clean up or repair. He cleans and packages golf balls, and identifies merchandise that can be sold on ebay. At his own expense, Peter has re-gripped golf clubs so that they're worth more, Peter is a pleasure to work with. Thank you Peter and congratulations!

Linda Nix

Linda is a jack of many trades at The Caring Place, she prices game and puzzles, as well as children's books, and also works in the Food Pantry and trains new pantry volunteers. She takes work home to complete and notifies people in the community when we have school toys and books for sale. She is passionate about teaching others about what we do, and is also active on our Membership Council. Congratulations and thank you, Linda

Mike McCarthy

Mike is all heart, and is always willing to jump in and help where ever he's needed. He is an expert in his department where he tests and prices electronics and repairs clocks. Mike comes in with a smile on his face and is always willing to help his coworkers and our customers. Many of us have had the pleasure of sampling one of Mike's other talents as he's an excellent chef! Thank you Mike, and congratulations!
Doris Krohmer Memorial Volunteer Service Award
Doris Krohmer Memorial Volunteer Service Awards recognizes extraordinary service and dedication to our mission.
Connie Danaher

Connie (left) works in our clothing department, and is incredibly dedicated. She comes in nearly every day, absent only when doing bookkeeping for her son's business or participating in activities with her grandchildren. Always cheerful and helpful, Connie goes the extra mile if she knows someone needs her help; her coworkers say that working with her makes the job seem easier. She is her own task master in meeting the goals she sets in her work, and she goes above and beyond to help others. She can be found almost anywhere in the store picking up, sweeping, helping the cashiers pack and bag, helping customers, bringing boxes and more. With her ready smile for all, Connie is a shining example of a Caring Place volunteer. Thank you and congratulations, Connie!

Ruffie London

Ruffie, who works in the Food Pantry and small engine repair, gives extra time and goes above and beyond his normal volunteer duties. When we call upon him to play his saxophone at our events, he is more than happy to do so and creates music that complements our events. Ruffie has a ready smile on his face, a great attitude and offers suggestions throughout the year, always striving to make The Caring Place better. Thank you and congratulations, Ruffie!

Brenda Tyrrell

Brenda is recognized for her dedication, compassion and continuous contributions to assist clients. Brenda has volunteered in the Client Services Department for 15 years primarily as a Client Advocate, and more recently, came forward to volunteer for an administrative project to make sure our client files are accurate and complete. Her lead on this project ensures that Client Advocates have the information they need to assess the clients' needs, and could not be done without Brenda's knowledge and expertise. Thank you and congratulations, Brenda!
Congratulations to you all!! Thanks for your incredible service which allows us to help so many!
---
The Caring Place Treats Volunteers to an Afternoon at the Movies (April 2017)
---
The Caring Place Treats Volunteers to A Night at the Movies!!!! (April, 2016)
---
2016 Annual Volunteer Service Awards (for service in 2015)
Caring Heart Award
The Caring Heart Award recognizes demonstrated excellence that exceeded a client's, customer's or peer's expectations.
Marilyn Bergren
Marilyn has long served the Client Services Department at the reception desk – working closely with clients to acknowledge their needs and quickly connect them with a Client Advocate. Working the reception desk can be challenging, as some people come to us in great distress, and take it out on the first face they see. Marilyn has handled this like a champ. In her down time, Marilyn does administrative tasks, which are very helpful to the department. She also served on the Client Services Focus Group to support positive change and quality improvement in the department. Congratulations and thank you, Marilyn!
The Cashier Team
There are several characteristics of a successful store, and ours is no different. We get great stuff, we price it fairly, we organize and display it exceptionally well. All of the aforementioned, however, would be for naught if we did not practice customer service skills that are exceptional. The team of volunteers who are largely responsible for service to our customers and clients are our Cashiers. They offer smiles, tact, patience, and care as they process purchases and vouchers. They are trained in the operation of our computerized checkout and handle themselves professionally at all times. We are so grateful for their team spirit as they assist each other as well as our customers. Thank you, Cashiers, for your excellent job on our frontline.
Gerry Carolan
Gerry keeps the linen department at The Caring Place going. She sees that the shelves are straight and stocked, and the incoming linens are sorted and priced. Gerry spends 4 to 6 days a week working at her "volunteer" job. Thank you and congratulations, Gerry!
Pet and Mike Clark
Pet and Mike Clark are always willing to go the extra mile. They work twice a week in our food pantry and warehouse. They also regularly pick up the bread at HEB. Whenever we need extra help in the pantry, they are always willing to fill in. In fact, they don't even have to be asked; if they see that it's a particularly busy day, they will stay until the job is completed. Most of the time, it takes prodding from David to get them to head home. Their personalities light up the pantry every Monday and Wednesday – and anytime they're here. They truly care about our clients, staff and other volunteers. Thank you and congratulations, Pet and Mike.
Bill Dalton
Bill Dalton has a heart for helping people. Whether he is interviewing a client or working with staff and volunteers, Bill is consistently pleasant, maintains a positive, encouraging attitude, and has a great sense of humor! Bill is quick to volunteer at events such as Soup Supper, and is also a member of the Client Services Focus Group. Bill stands out because of his love for helping and encouraging people. Overall, he is hard working, dependable, congenial, and beloved by those who are lucky to work with him. Congratulations and thank you, Bill.
Nell SanGregorio
Research has shown that people who volunteer often live longer. If that is the case, this volunteer extraordinaire should make it to 150! Besides her work in her church and our local garden club, Nell gives countless hours to TCP. She can be found sorting, pricing and packing in the holiday department, creating beautiful flower arrangements, pricing household and decorative items when needed, working at the Soup Supper – and on and on. All of this done with a smile and lots of good humor. Congratulations and thank you, Nell!
Doris Krohmer Awards
The Doris Krohmer Memorial Volunteer Service Award recognizes extraordinary service and dedication to our mission.
Lucile Byerley
Lucile not only works as a cashier in Fabulous Finds on Thursday, helps with Fresh Food For Families, and represents her church on The Caring Place Advisory Council – she is our greatest ambassador in the community. Lucille tells anyone willing to listen about the work we are doing in the community. She recruits numerous volunteers for us and works The Caring Place booth at her church. She is the first one to offer help with our events and sell tickets for fundraisers. They say time slows you down, but she speeds up for The Caring Place. Her smile is always there and she is proud to be part of the team. Thank you and congratulations, Lucile!
Gary DeRemer
Gary is an invaluable part of multiple departments at The Caring Place. At his own initiative, he created the training for new volunteers on the client services database, and has continued to provide these classes for over a year. He has volunteered across the organization as a cashier, pantry worker, and helped in Intake when we have had volunteer shortages. He is the contact for most of the modifications in the client services database, and has taken the lead in assisting staff with our new volunteer management database. In the Information Technology department, he has provided motivation, direction and planning for years – driving the staff to think not only about daily operations, but of future growth. He continually makes himself available to take on new responsibilities and never turns down an opportunity to help. It's obvious that Gary cares very deeply about the mission and vision of The Caring Place, and he has tirelessly and humbly provided his support and good will for years! Thank you and congratulations, Gary!
Sue Moore
One of the critically important positions in Client Services is that of the behind-the-scenes data entry person. This key position helps to streamline client file processing so those we serve can see client advocates more efficiently. Sue Moore not only achieves this, but exceeds it. As a volunteer for many years, Sue stepped into the Intake role with a keen eye and quick typing skills. She processes files quickly so that clients can have their needs met and finalizes the files after clients are seen. She also assists clients who only need food so that they don't need to wait. Her quick work, attention to detail and experience has granted her another opportunity – that of a mentor and trainer to new staff. Sue Moore is an asset to client services and key player in our ability to help our clients efficiently and effectively. Thank you and congratulations, Sue!
A big THANK YOU to all of our volunteers! We appreciate all that you do for The Caring Place.
---
Annual Volunteer Appreciation and Awards Dinner – 2015
If you've ever taken a tour through The Caring Place, you know that it takes hundreds of hands and caring hearts to keep things running smoothly. Over 500 of those caring hearts belong to our committed and steadfast volunteers!
The annual Volunteer Appreciation and Awards Dinner which was held on April 28, 2015, is our way of taking pause to say "thank you" to the amazing men and women who give of themselves every day to help others in need.
This year's affair included the lively and engaging talents of Mr. Thrill, renowned, DJ. Between bites of delicious stuffed chicken from CJ's Catering, volunteers and their guests laughed, danced and had a blast socializing.
---
2015 Awards (for service in 2014)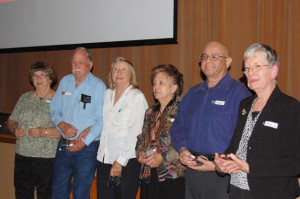 Several volunteers were honored with awards at the event. The nominations were scored by a nominations group based upon a matrix using the following categories:  excellence in client/customer/peer focus; continuous improvement; teamwork; professionalism; innovation; positive attitude; reliability. For the year 2014, six individuals or groups are being recognized for their contributions in 2014 that resulted in departmental efficiencies, better customer service and cost savings, positively furthering The Caring Place mission. Volunteers received awards in 2 categories: Doris Kromer Memorial Service Award and The Caring Heart Award.
---
The Caring Heart
Frank Espinosa
Frank is an Intake volunteer who is incredibly dedicated to The Caring Place and the people we serve. Frank works diligently to expedite clients being seen quickly. He takes the initiative to help out wherever he is needed. He creates a team environment and can be counted on to always have a smile and a bright, positive attitude. We can always count on Frank.
Cathy Lippiatt
Cathy is a dedicated client advocate who goes out of her way to assist our clients by helping them identify the root cause of their crisis and helping them discover ways to avoid crisis in the future. Cathy uses her skills to respectfully guide clients, and has an uncanny ability to find solutions to complex problems. Thank you for the loving and caring way you support all of our clients.
Gene Miller
Gene has supported the mission of The Caring Place by assisting in the Information Management Dept. In 2014, Gene created an application for our Coats for Kids and Holiday Meal programs that proved to be vital to every aspect of handling these important programs. He was diligent in making sure the application was ready to go, and came in every day to ensure that all operations were going smoothly. His support and commitment to this project was truly inspiring. We presented this award posthumously to  Gene's wife, Jan.
Lorraine Uhrig
Lorraine is the team leader of our Jewelry department. Although she is an expert in jewelry and pricing, if she's unsure about a piece, she doesn't hesitate to research it until she know what it is and its value. She is very creative in piecing jewelry together, making it shine and getting a fair price. She is very organized, great to work with and never asks anyone to do anything she wouldn't do herself.  Thank you for giving 150% to support our mission.
Leslie Zalles
Leslie provides Quality Assurance in Client Services. She is not only a delight to work with, but can be described as a Nancy Drew detective, identifying problems and data errors and solving the mysteries of odd information. While Leslie has a breadth of tenacity, knowledge and reliability that make her excel, she also actively compliments others. Thank you for your dedication to our clients and for your joyful presence.
The Shoes, Purses and Small Accessories Team, which includes
Carol and Lynn Jorgensen
Betty Miller, and Summer House
Carol, Lynn and Betty represent a commitment to The Caring Place that spans over 15 years each. They come in to work in their departments several times each week as the volume is very high … and sometimes not very pleasant smelling. When one or two of them have to be absent the one or two remaining are always willingly pick up the slack. Each of them also participates in special events sponsored by the store. They have all helped train and work with our special friends from Summerhouse who come in to work several times a week. One of the three volunteers pots plants from her garden and donates the plants to the store to sell. Thank you for your exemplary teamwork and commitment!
We also recognize Julia Roby for her dedication in leading the Summerhouse Team.
---
Doris Krohmer Memorial Volunteer Service Awards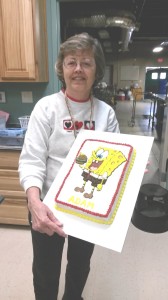 Joyce, also affectionately called "The Cake Lady", has baked over 500 cakes for clients of children at The Caring Place. Some of her cake designs include Dora the Explorer, Ninja Turtles, Barbie, Disney characters, sports themes and most recently, characters from the movie, Frozen. Joyce faithfully delivers these homemade cakes to The Caring Place Pantry and often makes special deliveries to parents after hours. Joyce also volunteers in the Food Pantry and shows great compassion and caring for our clients.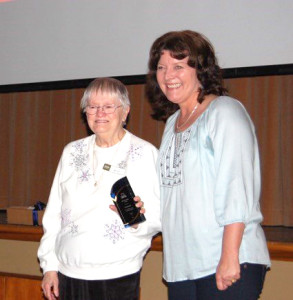 Ceil spends numerous hours at The Caring Place and at home, sorting through and packaging cards and other paper goods for sale in our thrift store. Throughout the year, she collects Christmas and other holiday cards, and attractively arranges them in the store for our customers. Ceil is hardworking, a wonderful teacher and has a great sense of humor. She finds the bright side in every situation. She encourages others to do a good job and patiently instructs volunteers on how to handle tasks at The Caring Place.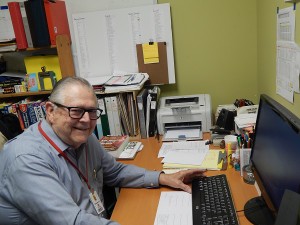 George's role at The Caring Place is critical. He averages 150 hours a month maintaining our Point of Sale system. Many don't realize that he's not an employee! He conducts all of the cashier training, generates essential reports for the store, pantry and volunteer hours and is always willing to support all departments. George is dedicated, dependable and maintains a fantastic attitude no matter the circumstances. He inspires everyone around him with his chipper attitude.
---
The President's Award
The President's Award is for community service and leadership, collaboration with and connecting area non-profits to serve people in need.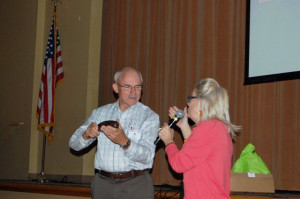 ---
2014 Awards (for service in 2013)
Al Beaver has donated his time and talent to The Caring place for 2 1/2 years. He is known for his ready reply, "I'll do it!," said with a great big smile on his face, matching his unshakable positive attitude. Whether it be Fresh Food For Families distribution, decorating for Sweets, Treats and Trees, sorting and pricing Christmas ornaments, assisting in the Food Pantry, pricing Tiny Finds for Re-Finds, or cashiering (his regular shift plus substituting for others), Al is always willing to help. Al's contributions to The Caring Place cannot be quantified; he serves wherever and whenever there is a need. We are delighted that Al has chosen to share his time and talents with us, and we thank him for the smiles, the positive attitude and the many hours of work he provides to further the mission of The Caring Place.
Steve Schlobohm has been a client advocate for 4 years at The Caring Place.  After retiring from the US Forest Service, Steve wanted to do something about poverty and to help people in need.  Steve volunteers two 4-hour shifts a week at TCP and also for the St. Vincent DePaul Society.  He is a member of Santa Rose Catholic Church and has lived in Georgetown for 5 years.
Jodie Steger can be described as caring, resourceful, dedicated, dependable and conscientious. Jodie is the "medical expert" in Client Services. Initially, she was trained to help clients with simple medical assistance, such as prescriptions and doctor appointment co-pays. However, Jodie took the initiative to research existing medical resources, and in doing so, found more ways she could help clients. She frequently utilizes prescription coupons on the internet, saving clients and The Caring Place hundreds of dollars. In addition, Jodie routinely calls doctors, dentists and pharmacies to inquire about discounts for the clients. Jodie continually goes over and above to provide our clients with resources, services, and most important, hope.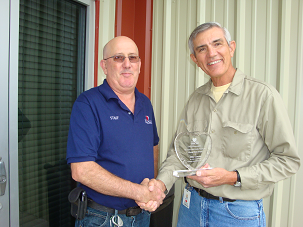 Mike Carson is our tremendously talented "Mr. Fixit". Prior to construction beginning on the Annex last year, Mike and a volunteer crew were heavily involved in the demolition work. Under Mike's supervision, he and the crew tore out the suspended ceiling, removed the heating/ventilation/air conditioning systems and duct work, took up floor coverings and removed insulation from the walls and ceilings. According to our architect, the work completed on The Annex by Mike and his crew saved The Caring Place over $60,000. Mike continues to help us each week by fixing and repairing items at both facilities.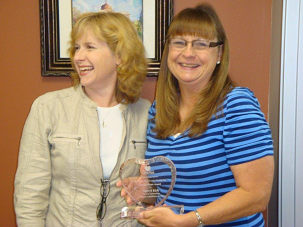 Sheryl Rich is one of our fantastic and versatile volunteers who "does it all." In 2013, Sheryl volunteered in Reception, Intake, Client Services, Donations, and Fresh Food For Families, as well as serving on the Client Services Focus Group and the Client Advocate Training Team. She also developed a more practical and effective way to orient and train new Client Services volunteers by "following the file". She is well respected by her peers, who see her as a volunteer leader who is approachable, knowledgeable and caring about the many complexities related to serving our clients.