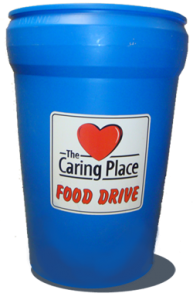 If your group or organization would like to host/sponsor a Food Drive to benefit The Caring Place, please contact David Earl at 943-0710 or Rita Turner at 943-0702. We can provide you with more information, register your food drive, and arrange for the delivery and pick-up of food barrels. 
How to Host a Food Drive at Your Office or Organization
The Caring Place is always in need of good quality, non-perishable food items. Often, food drives are the only source for some types of food. And we'll make it easy for you by helping you every step of the way.
Here are some tips to get started:
1. Select a date for your food drive:
Plan ahead so the event won't conflict with other projects.
Pick a day, a week, or maybe a month.
We've found that two weeks works well.
2. Select a location to collect the food:
Place a barrel or box in the break room or a waiting area.
The Caring Place has barrels which are available for your use. Simply contact us and schedule a drop-off and pick-up time.

Mark each container with your group name and the words "Food Drive."
We asked that you indicate it is for The Caring Place – Fill the barrel and feed the people!!!!
3. Get the word out:
Blanket the office with posters and fliers.

Great visible locations include bathroom mirrors, break rooms and coffee machines.
Feature the food drive in your company newsletter or send a message through interoffice e-mail.
4. At the end of the event, load your vehicles with the food and deliver it to The Caring Place.
Let us give you a tour so you can see how your donation makes a difference!
Food drives are held throughout the community by our Pantry partners, but not all drives include a blue barrel at the collection spot.  Our community is very creative in identifying fun ways to give to The Caring Place.  A few examples are:
A local chiropractor collects macaroni and cheese dinners during the holidays, creating an annual "Mountain of Macaroni".
"Food for Fines" some elementary and middle school libraries allow students to pay book fine with food for The Caring Place.
A box of cereal as the entry fee for the annual Wells Fargo Food Fest.
One of our donors celebrated their 80th birthday by having guests make a donation to The Caring Place.
Eggs fresh from the farm.
Click for the food list to pass out or place on the barrel. Caring Place Food Pantry Needs