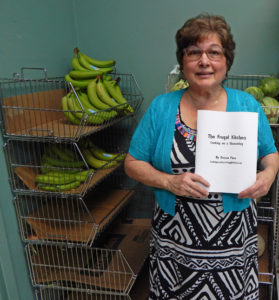 Food Pantry Volunteer helps clients, experiments with unusual ingredients
Our Food Pantry volunteer, Donna Pace, knows a thing or two about cooking meals on a budget. Author of The Frugal Kitchen: Cooking on a Shoestring, Donna helps Food Pantry clients make selections for their families and is known to provide cooking and meal-stretching tips from time to time. She even encourages families to try vegetables they aren't familiar with, such as kohlrabi.
Born and raised in Beaumont, Texas, Donna's parents owned a neighborhood grocery store so she was exposed to all sorts of produce. She watched her mother, Josie Lomonte, cook with unusual ingredients, preparing meals that were inexpensive and nutritious. "She taught me the value not wasting anything, if possible.  She would come home with ingredients no one else I knew would eat like tongue, brains and liver which were either free or extremely cheap," she said. "It is possible to feed a family without spending a lot of money."
To prove her point, Donna embarked on a study of sorts, enlisting a family of nine in an experiment including several teenagers. "I fed them for one month on less than $120.00 per person for the month," she said.
However, Donna is a realist. She understands that sometimes saving time can be as critical as saving money. After her father passed away, her mother ran the store alone, working 16-hour days. "My mom also saw the advantage of using some convenience items like dried pasta and store bought bread rather than homemade. She used to say the outlay of a few pennies was preferable to spending time and energy she didn't have."
Most people want to feed their families well but another barrier they face, besides lack of funds, is a lack of information. Some aren't sure about which ingredients to use or how to prepare them. So Donna loves it when The Caring Place Food Pantry receives fresh produce donations from local garden communities; it's her opportunity to tell clients about cooking with fresh—and sometimes unusual—vegetables.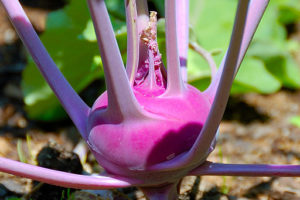 Take kohlrabi for example. Once when The Caring Place received a large donation of this stem vegetable—that looks more like an alien with a half dozen antennae—Donna realized that a lot of people didn't know what it was or how to cook it. Actually, Donna didn't know either! So she decided to experiment. "I roasted it with other vegetables in olive oil and salt. It was very good. It tasted like a mild squash. It only took 30 minutes," she said. "If one never tries anything new, they are poorer for the lack of the experience."
That's pretty much how Donna developed the content for The Frugal Kitchen – experimenting with different kinds of ingredients. She also mixed in a few family recipes. "Our cultural heritage is Italian and several of the recipes in The Frugal Kitchen are family recipes." This also explains, at least in part, why Donna decided to volunteer in The Caring Place Food Pantry.
Besides wanting to help working people in particular, she wanted to test some of her theories about meal preparation. "I wanted to find out what foods people preferred, determine if there was a need for cooking instruction, and see how many people were open to new foods and recipes."
Donna learned that basic staples such as canned and dried beans, corn, tomato products and canned fruit are most popular in the Food Pantry. "I've met some who would like to cook with ingredients they aren't familiar with and will ask for information on the preparation of those foods," she said. "After St. Patrick's Day, we got a number of pounds of corned beef. I had a couple of people who wanted it, but didn't know how to cook it and asked for instruction. That was fun because there isn't much to it except to remember to cook it low and slow."
More than anything, Donna loves that her cooking experience is being put to good use in The Caring Place Food Pantry and that she is doing something to give back to the community. "I find it gratifying to see people get what they need.