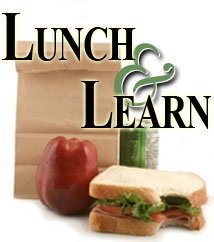 The Caring Place has been a Georgetown institution for over 30 years. The community generally has a positive opinion of The Caring Place, even though many folks don't know exactly what The Caring Place does and how it's done. To help educate and inform the community, the Board and staff of The Caring Place host a series of Lunch 'n Learns on the 2nd and 4th Thursday of each month. These events provide a perfect opportunity to expose guests to the complexities and efficiencies of the operation. Many of our Lunch 'n Learn guests become volunteers so that can learn even more about The Caring Place and participate in the work that we do. Lunch 'n Learn events include lunch, a multi-media presentation and a comprehensive tour of The Caring Place.
Please join us for lunch on the 2nd or 4th Thursday of each month, 11:30 a.m. to 1:30 p.m.
Advance reservations are requested as it is important to keep the groups to a manageable size, plus we want to order enough lunches. Special groups of 4 or more can be accommodated on other days of the week if scheduled 2 weeks in advance. This is also a great opportunity for a club or organization's meeting program. Come join us; we think we'll be able to pleasantly surprise you.
To learn more or to sign up, give Rita Turner a call 512-943-0702.