We love to have groups volunteer at The Caring Place.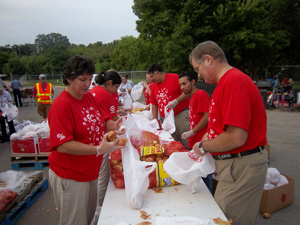 We have a few guidelines for groups.
Please schedule your group activity two weeks in advance.
Groups must be 20 people or less.
Groups can volunteer Monday thru Saturday from 9:00am to 4:00pm.
If the groups consist of children please contact our Community Engagement Manager for age restrictions.
We do have an ongoing event that is always in need of volunteers.  Fresh Food for Families is held on the first, third and fifth Monday from 7:30am-10:00am. On these Mondays we receive 10,000 pounds of produce a month from Capital Area Food Bank and we need volunteers to help us package this produce into individual bags to distribute them.  We distribute the produce via the drive through area to nearly 300 families at this event!
Contact Rita Turner at rturner@caringplacetx.org or (512)943-0702 for more information on group volunteering.